SpeedBuggy Sightings

A PAGE DEDICATED TO A VERY COOL RIDE
The Fabulous EMPI 'IMP" as pictured in the Plans and Instructions kit assembly manual.

IDB-200 EMPI-Imp Basic Kit . . . . . .$395.00
IDB-300 EMPI-Imp Deluxe Kit . . . . .$595.00
IDB-400 EMPI-Imp Super Deluxe Kit $795.00
IDB-500 EMPI-Imp Sport Kit . . . . . .$995.00
IDB-600 EMPI-Imp Super Sport Kit. $1495.00

Prices as of 1969 (est)

{Sorry! These prices are no longer valid or available}

The Babe Search:

Apparently mine didn't come with this EMPI Babe option.

(just as well as she is probably somebody's mom now)

Who is SpeedBabe?

and Where is she now?

E-Mail me if you have any idea

The new Owner: Me (yay!) 7-97 - MDBC Member #685

My Speed-Buggy Specs:

1967 VW pan - EMPI Imp - Y69 - S#1082

w/ Landau Hard Top option(knock-knock)

Color? I just dont know yet!!! When the sun hits it just right, Red Flakes in the coat give it a real cool effect! Any input? Could it be 16E?

Prussian Blue-14E
Royal Blue - 15E
Peacock - 16E
Medium Blue - 17E

Pushin it around:

1835cc Type 1
Dual Solex
4 Spd - Type 1 Swingaxle,
4 Drum brakes(woo-hoo) Soon to be updated to some REAL stopping power
Going Places - Doing things
Topless!

Malibu Canyon Adventure

8-97

Turkey Week

Red Rock Canyon

11-97

A Grand Day Out

It was the beginning of summer, Time for a picnic and a drive!

6-98

While most of the country was covered by ice and snow, we had a Sunny day in the 80's. Then came:

Picnic 2

(the sequel)

A Banner Day! Drop everything and go for a drive

Saddleback Peak

1-99
---
Pictures will show up here of the interesting places it goes.
(I will spare you of the pics of me at the grocery store, corner market, dentist, etc)
I have been driving the wheels off it! Just gotta develop the film...
If you would like better quality pics, I can send.
---
Coming Soon!
The Plans and Instructions!

The complete 40 page assembly manual. Who wants to see this? What form is best? It could be done all by jpg images, or if I really get inspired it could be done as a PDF file.

What the hell, I'll probably just do both.
---
ID THAT THING!
If you think you have an Imp, does it have a Serial Number Plate like this?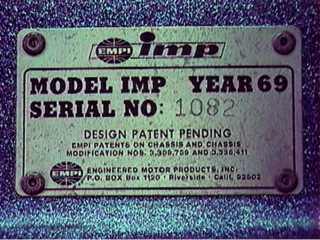 It actually measures 2 in x 3.5 in and is located below the rear seat, in the center, right above the transmission hump.
For more info, and a look at other terrific EMPI Imp's, go see Deb and Paul's Imp pages!
---